Williams Bay Middle/ High School

Home of the Bulldogs

#131 Top High School in the Nation in 2014

#21 Public High School in the State in

#6 High School in WI According to the

US News and World Report Rankings for 2016

#522 in the Nation

Girls Volleyball won the Faith Christian

Invite
o

n Saturday Aug 27th!
Next up: Home meet on Thursday, September 1st vs Dodgeland JV at 6 pm, Varsity at 7:15
New:
Get your Williams Bay sports information here!
Sign up for notification of your athlete's games. Notification instructions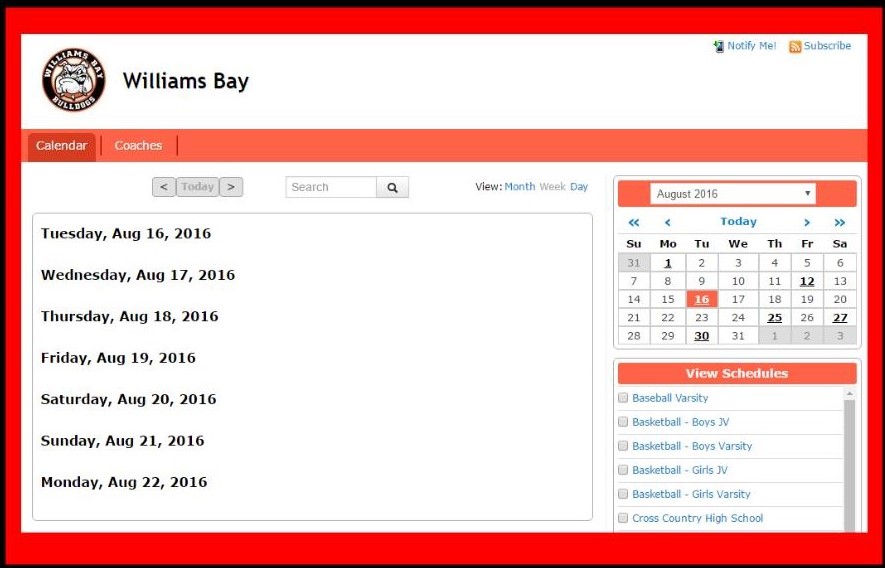 Middle School Supply List

Williams Bay High School Class Officers 2016-17
SENIORS
President- Erin Bailey
Vice-President- Rose Sanchez
Treasurer- Katelyn O'Brien
Secretary- Lauren Higgins
JUNIORS
President- Leslie Olson
Vice-President- Ben Dellheim
Treasurer- Carson Luberda
Secretary- Sophie Sanchez
SOPHOMORES
President- Tori Pollak
Vice-President- Gina Digeso
Treasurer- Jack Kuiper
Secretary- Briana Thompson
FRESHMEN
President- Caitlin Thies
Vice-President- Hannah Rabenhorst
Treasurer- Alex Scerba
Secretary- Daniel Rees
Junior Parents WorkKeys Information:
Elementary Construction Letter

GET YOUR BULLDOG PLATINUM CARD
Imagine...free admission to all athletic contests* , concerts, and plays conducted at the Williams Bay Schools. The Bulldog Platinum card is available to ALL Williams Bay Community Members age 65 and older. Cards may be obtained at the Jr./Sr. High School office. *WIAA contests are excluded.